Success Stories
Whether you want to simply look good or to increase your sports performance, the Core Fat Loss plan can help you achieve your goals in life.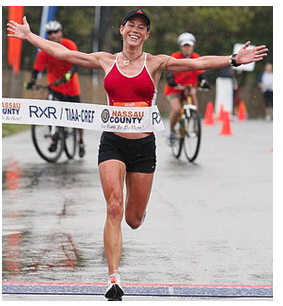 Jessica Allen
"The women's marathon winner, for the third straight year, was Jessica Allen, 32, of Hampton Bays, in 2:56:14, thus shaving almost 11 minutes from her 2008 time and almost 18 from her winning time in 2007. She had won the Long Island marathon a few times, including this year, said Allen.
"Allen won in two hours, 53 minutes and 23 seconds, faster than her LI victories in 2004, '07 and '08, as well as her runner-up finishes in 2005 and '06."
CASE STUDY
The Core Fat Loss competitive advantage can be shown on the chart below. As you can see, Jessica lost 11 pounds in weight. The most notable statistic below is the maintenance of lean muscle coupled with the reductionist fat pounds. The initial drop in water weight accounts for the quick drop, and then stabilization of lean muscle. That's the main difference between CoreDiets™ and many of the corporate fad diets of America.

"CoreDiets has become a 'way of life' for me and I can't see myself eating any differently."

Karen, Kopelman, the Fit Fashionista
Core Fat Loss is a "Way of Living"
"There is a real need for your easy to understand, practical nutrition advice."

Steve Harper

KJOY98.3 FM | Creative Juice Advertising

"Thanks for taking such complicated science and making it easy!"

Bill Mondy

Actor | www.BillMondy.com
Shed Excess Body Fat
I have lost 19 pounds in 16 weeks. I still eat larger portions than I should, after all I am Italian! I feel so terrific, I have more energy than ever, people always comment on how good I look.

Shirley, Stuart Florida

"I lost 30 pounds and I will eat this way for the rest of my life. Your food plan is awesome and I am never hungry"

Christine, Boston M.A.
Quick & Easy Recipes
"Core Diets is easy and I love cooking Core Fat Loss recipes"

Nancy | Southampton NY

"While in the academy Core Fat Loss helped me win the Sheriff's physical fitness award.

Brian | Long Island, NY
"My starting weight in the picture is 215 pounds. USA Diet Plans got me to 186 pounds and increased my endurance."

Joao IRONMAN®

Athlete & Personal Trainer Water Mill NY
Change Your Life
"I am 40 lbs lighter & Rob is 80 lbs. lighter."

Marylin & Rob | Florida

I lost 24 pounds& no longer need coffee to wake up in the morning!

Darrell | Stony Brook NY
Increase Performance
"I ran a 7:38 mile, The fastest in the past Ive been is around 10 minutes! The first two Before pics were taken around March 1,2008. My starting weight was 225 lbs and approx 22% bodyfat and my weight now is 192 lbs at approx 12.5% bodyfat."

Dave | Certified Cross Fit trainer
Change Your Life
"Core Diets makes it easy to maintain my fighting weight 365 days a year."

Eric Davidson

Junior middleweight

owner Body Shot boxing gym

"I recommend Core Diets™to all my clients"

Brian Cochrane

Nutritionist

C.W. Post College NY
Feel Full & Enhance Focus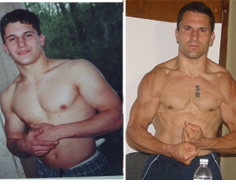 "I am not just the president of Core Diets™, I am also a client"
John Erickson